Review Product
Posted on: 2018-02-05
Rise Rising Bollard
RISE is a company part of the BENINCÀ GROUP, specialized on the production of systems capable to satisfy to the most demanding requests in terms of security of residential, public or commercial areas. The RISE range include bollards for the protection or the traffic handling, pedestrian areas of different types and access control systems.
SMART MOVING for the company is not only a pay-off, but a promise of reliability which ends on the study and continue research of innovative solutions capable to improve people and goods mobility with any daily contests.
RISE therefore offers not only single products, but a entire world made of systems capable to improve people's life with a particular attention spent on the energy saving and eco compatibility themes. All of these is done through a study and applying simple and intuitive technologies capable to guarantee safe and quick travelling with the maximum simplicity.
Reliability for RISE means quality. The research of innovative solutions goes through precise manufacturing choices. The development and the production, strongly handled within the company, are making RISE one of the main player, along with the other companies part of the Benincà Group, of the MADE IN ITALY in the world.
Automatic Bollard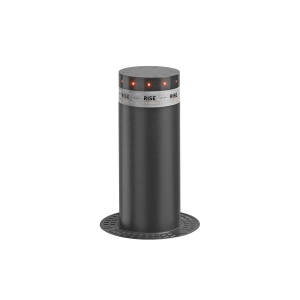 • High number of cycles and low power consumption
• Ability to operate even in the event of a power failure thanks to the central group with UPS
• Quick and easy to install thanks to the foundation box can be assembled on site without welding
• Equipped with RS485 communication bus and Ethernet connection via TCP/IP
• Device encoder integrated obstacle detection and amperometric
• Equipped with anti-vandal function, which allows to detect a forced command, to reset the bollard and activate an alarm
• PLUG&PLAY Connection between bollard and control panel
• EN124 (40T) Top equipped with LED lights
Keywords : Rise Indonesia, Rising Bollard Indonesia, Automatic Bollard